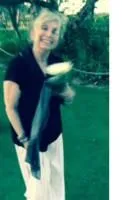 "No problem can be solved by the same level of consciousness that created it." Albert Einstein
BACKGROUND
- Licensed psychotherapist, 20 years experience, (individuals, couples and families).
- Graduate degrees - Counseling Psychology, Drama Studies.
- Theater Director, Producer, Artistic Director
- Executive, Artistic, and Program Director- Non Profit Arts Organizations

STYLE
- Down to earth, interactive, present focused.
- Known to "roll up my sleeves"
- I believe laughter is as healing as tears and, best of all, when it happens in the same moment.